2012 Tour Championship
Announcing the 2012 Senior Amateur Tour National Champions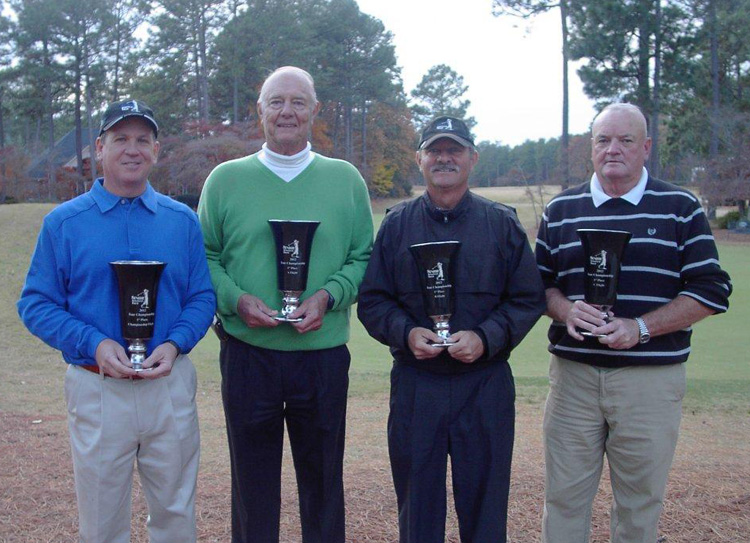 The Senior Amateur Tour returns to Pinehurst and the championship courses of Pine Needles Resort, Seven Lakes CC, Dormie Club and National GC.
BY HOWARD WARD
Jim Aughtry makes his living as a financial advisor, but might consider venturing into national championship advising after his showing in Pinehurst last week.
Aughtry, who lives in Concord, shot 74-78—152 to win the Championship Flight of the Senior Amateur Tour's annual season-ender. In so doing, the 51-year-old became the first to win both the regular and the senior tour championships.
The championship was held on four courses — National Golf Club, Pine Needles, Dormie Club and Seven Lakes Country Club — in rain and cold temperatures that were almost brutal at times.
Other flight winners were Jim Eskridge of Greensboro in Flight A, James Herndon of Hamlet in Flight B and Michael Hinson of Rock Hill, S.C., in Flight C.
A field of 246 players from 12 states competed in the event, the largest ever.
Aughtry opened at National with the 74 on Tuesday despite a cold rain, then followed up with a 78 at Dormie.
"It was tough on Tuesday," he said, but it was still better than work."
Aughtry won the regular championship at Hilton Head last year and was making his first appearance in the Senior Division.
"I didn't do anything special," he said. "I was just able to make a bunch of pars. On the last five or six holes, if I had to make a putt for par, I made it.
"I had played National before and really liked it. I had never played Dormie and it was a tough track."
Aughtry came into the final hole tied with Johnny Adams and hit "the bet shot of the week" with his approach.
"I hit an 8-iron to six feet," he said. "It was absolutely the best shot I hit in two days. Nothing else was even close to being that good. Then Johnny three-putted and all I had to do was two-putt for the win.
"I just enjoy competing, and I'm able to win enough to make it explainable to my wife."
Eskridge, a 72-year-old homebuilder, was a model of consistency, shooting 80-80—160, at Dormie and National. "The rain, wind and cold made it tough at Dormie," he said, "but today I just controlled my snap hook. I tend to get a little handsy in cold weather. But at 72, anything you win is a good feeling."
Herndon's strength was also consistency. He shot 82-82—164 in rounds at Pine Needles and Seven Lakes to win Flight B.
"I thought both courses were great," he said, "and the greens were exceptional. Putting was the best thing I had going." Herndon won a national title "seven or eight years ago in Flight A. "I've had two strokes," he explained. "That's why I'm playing in Flight B now.
"I love playing the tour because it's so competitive, the people are great and we play great courses."
The 62-year-old Hinson was anything but consistent, shooting 93 in the rainy opening round at Seven Lakes and following with 75 at Pine Needles.
"This 75 was the best score I've ever had in my life," he said. "I couldn't miss a putt. That had to be the most one-putt greens I've had in a round.
"I played in 16-18 tournaments this season and didn't have a win. This is great!"
The Senior Amateur Tour conducts separate amateur tours in 12 regions representing 10 states. Over 250 tournaments were held nationwide for players to qualify to play in Pinehurst.
This was the 14th annual championship for the tour. The first eight were held in the Sandhills before moving to the South Carolina low country for two years. The tour has made long term arrangements to keep the National Championship in Pinehurst, according to Tour President Dennis McCormac.