The Senior Amateur Tour

The Senior Amateur Golf Tour is open to players of all skill levels. Members of the Tour must be of a minimum age of 50 on or before Oct 1, 2021. The Tour has four separate flights to keep competition fair. You may join anytime during the season for a membership fee which includes Tour merchandise and allows members to play in all local Tour events as well as any SAGT event nationally.
Nov. 17, 2020
New for 2021
Senior Amateur Regionals
Dec. 10, 2020
Be A Champion on the Senior Amateur Tour!
Flight leaders from each local tour will be invited to compete against the top tour members across the country at the 36-hole National Championship in Hilton Head, SC.
The 2021 Senior Amateur Tour Championship will be held October 20-21 with a flighted skins game on October 19.
Dec. 10, 2020

WhatsNew:
Sign up today for Golfweek's FREE newletters reporting on the latest and greatest happenings in the game of golf.

Trey Coker, Mark Davidson, Jerry Drewry and Shayne Smoke all win at the Senior IceBreaker Regional hosted at Sea Pines Resort!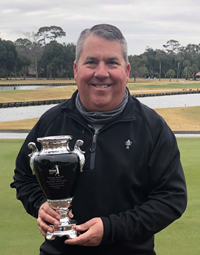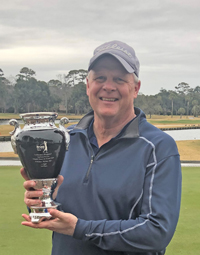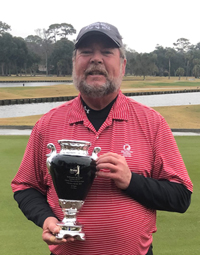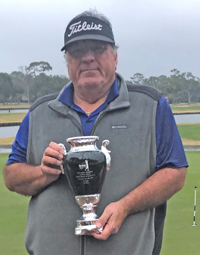 Hilton Head Island, SC – This year's Senior IceBreaker Regional was played in Sea Pines Resort (Atlantic Dunes & Heron Point). In the second year of this regional tournament this was the largest field ever with 86 players from over 13 different tour cities across the country.

In the Championship Flight, Trey Coker (Louisiana) Terry Lanning (Hilton Head/Savannah) and Steve Kubik (Eastern NC) all finished tied for first at 146. One the first sudden-death playoff hole Kubik existed with a bogey while Coker and Lanning made pars.  Finally on the sixth sudden-death playoff hole Coker was victorious with a birdie.  All the previous five holes were tied with pars as Lanning finished in second and Kubik third.  Bryan Benton (Jacksonville) was fourth at 148 and Steve French (Charlotte)and Jeff Brischke (Charlotte) both tied fifth at 152.

In the A Flight, Mark Davidson of the Atlanta tour won by five shots with rounds of 75-80-155. Ray Van Ness (New Jersey) finished solo second at 160 followed by John Dobbins (Jacksonville) with 161. Randy Myers (Myrtle Beach/Wilmington) finished fourth at 163 and Bob Dail (Central Carolina), Greg Buliga Hilton Head/Savannah), and Michael Mason (Jacksonville) all finished tied in fifth place with two day totals of 164.

In the B Flight, Jerry Drewry (Indiana-Western KY) won by two shots for the victory at 82-81-163. Mark Toloso (Louisiana) finished second at 165 followed by Mark Odekirk (Jacksonville) third at 167. John  Turner (Hilton Head/Savannah) and Jeff Patterson (Central Carolina) both tied fourth at 168.

In the C Flight, we had a four man sudden-death playoff.  Shane Smoke (Louisiana) Patrick Fowler (Charlotte), Doland Miller (Southeast VA) and Jerry Brennan (Myrtle Beach/Wilmington) all tied at 176.  After two holes Shane Smoke came out victorious with a par on the second sudden-death hole.  Jimmy Sullivan (Charlotte) rounded out the top five place only one shot back at 177.

The Senior Amateur Tour plays in over 16 areas across the country and host single and two day tournaments. To get your tour card simply go to (www.senioramateurgolftour.net) to join the Tour and be a part of a great nationwide tour. The tour is open to any player who is 50 years of age or older.
Congratulations to the 2020 Senior Amateur Tour Championships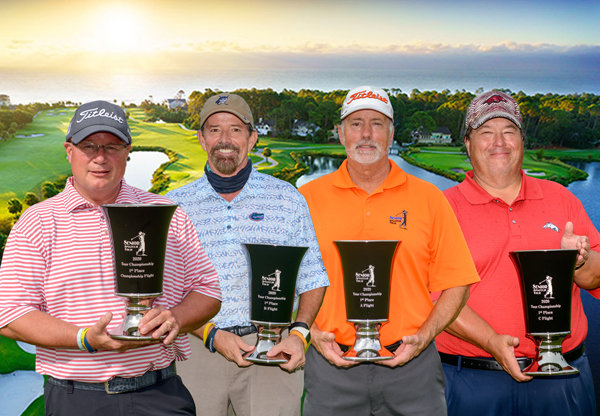 Left to Right: Michael Dennis, Michigan- Championship Flight
Jim Flowers, Jacksonville, FL- B Flight
Bill Phillips, Charlotte, NC- A Flight
Robert Luter, Arkansas- C Flight






HILTON HEAD ISLAND, S.C. – Michael Dennis from the Michigan tour won his first ever Senior Amateur Tour Championship title by four shots over Nashville's Derek Riley. Michael Dennis shot rounds of 69-71-140 for a four-under-par, two-day total which included a hole out in two shots on the par four 10th hole at Oyster Reef.  Derek Riley (Nashville, TN) posted rounds of 71-73-144 to place second and Rich Campbell (Columbus, OH) was third with 72-73-145. Chad Frank (Orlando, FL) 74-72-146 and Ed McDugle (Nashville, TN) 73-73-146 rounded out the top five spots at 146.
Over 380 players competed on five courses—two in Palmetto Dunes (Trent Jones and Arthur Hills), Dolphin Head CC, Oyster Reef & the Palmetto Hall's Robert Cupp course—making this the largest Senior Tour Championship field ever.
In the A flight, Bill Phillips (Charlotte, NC) won by one stroke over three other players. Phillips' winning scores were 74-78-152 followed by Jeff Carnacchi (Nashville, TN) 78-75-153, Keith Thomas (Central Carolina) 77-76-153 and Richard Johnson (Eastern, NC) 74-79-153. Rounding out the top five spots was Joe Natola (Chicago) with 74-80-154.
Jim Flowers of Jacksonville, FL fired a two-day total of 79-78-157 to win the B Flight Championship by four shots.  Dave Schrott (Jacksonville, FL) finished in second at 161 followed by Glenn Whalen (Chicago) solo third at 162.  Edward Greenfield (Arkansas) finished fourth at 163 and Hollis Peery (Central Carolina) beat out two other players in the tie breaker for fifth place.
The C Flight Champion came down to the final hole to determine the winner.  By only one shot the victory went to Robert Luter from the Arkansas tour with a two-day total of 165. Eddie Jaggers (Central Carolina) was second at 166 and third place went to Steve Taylor (Jacksonville, FL) with a two-day total of 170.  Ron Vail (Phoenix, AZ) was fourth at 175 and Mark Detillier (Louisiana) wound up in fifth with (176).
The Central Carolina tour took home the Team Cup winning by five shots with a two-day total of 1275.  Charlotte NC finished solo second at 1280 shots followed by the Jacksonville, FL (1283), with Louisiana and Eastern, NC tied at (1330).