The Senior Amateur Tour

The Senior Amateur Golf Tour is open to players of all skill levels. Members of the Tour must be of a minimum age of 50 on or before Oct 1, 2020. The Tour has four separate flights to keep competition fair. You may join anytime during the season for a membership fee which includes Tour merchandise and allows members to play in all local Tour events as well as any SAGT event nationally.
Nov. 6, 2019
New for 2020
Senior Amateur Regionals
Dec. 20, 2019
Be A Champion on the Senior Amateur Tour!
Flight leaders from each local tour will be invited to compete against the top tour members across the country at the 36-hole National Championship in Hilton Head, SC.
The 2020 Senior Amateur Tour Championship will be held Oct. 28-29 with a flighted skins game on October 27.
Nov. 13, 2019

WhatsNew:
Sign up today for Golfweek's FREE newletters reporting on the latest and greatest happenings in the game of golf.
THE LIGHTHOUSE INVITATIONAL
SEPTEMBER 17 - 20, 2020
The Sea Pines Resort is hosting the second annual Lighthouse Invitational, four-day golf tournament this fall, offering the ultimate golfing experience with play on all three of its championship courses and exclusive privileges and amenities, including an opening night reception and putting contest at the famed Harbour Town Golf Links. Click below for more info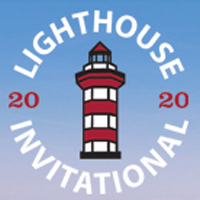 COVID-19 UPDATE
Effective immediately (and until further notice), all Golfweek Amateur Tour and Senior Amateur Tour events MUST include the following rule and all Tour Directors MUST enforce the following COVID Rules:
Flag sticks are to remain in the hole at ALL times.

ANY PLAYER THAT TAKES THE FLAG STICK OUT TO PUTT WILL BE ASSESSED ONE (1) STROKE PER OCCURANCE. MULTIPLE INFRACTIONS WILL RESULT IN DISQUALIFICATION.
Having just celebrated our 25th anniversary, the Golfweek Amateur Tour and Senior Amateur Tour are proud of our long-standing commitment to provide amateur golfers the chance to play like the pros in professionally run tournaments. We have always, and will always, focus on producing quality events where people can compete fairly, have fun, build relationships and play great courses across the country. Given the unprecedented times associated with the Coronavirus, we are constantly monitoring the recommendations of the Centers for Disease Control and the World Health Organization and staying up-to-date with the latest information. As a result, each local tour is up and running while utilizing the guidelines provided by local government officials, health departments and individual golf courses. Please consult our website and reach out to the local tour director for specific information regarding a particular event. Our goal is to continue doing what we do for our members as we move forward throughout the 2020 season.
The Sandhills Regional
The Central Carolina Senior Amateur Golf Tour hosted the Sandills Regional golf tournament at the Mid Pines Inn and Golf Club in Southern Pines on July 14th and 15th. A full field of 144 players converged on the golf course from 10 states and 12 Tours hoping to take home the first place trophy. Also at stake was a paid entry to the two day Senior Tour National Championship to be held in Hilton Head in October.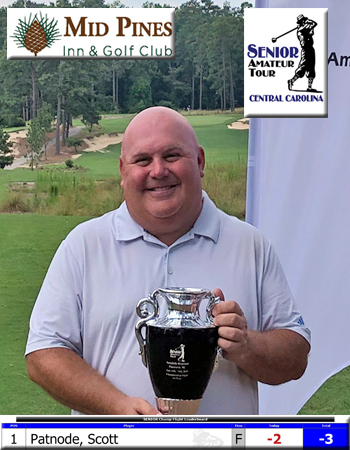 The winner of the Champ flight, Scott Patnode of the Charlotte Tour was under par both days posting 71-70 for a three under par 141. Day 1 leader Eli Villanueva from the Central Carolina Tour followed his 70 with a 75 for a 2 day total of 145 and a second place finish. Mike Gentry from the Charlotte Tour was third posting 147, while Central Carolina's William Carter took fourth at 148. Jim Aughtry from the Charlotte Tour and Eastern NC Tour Director Marty Martinez finished day two tied for fifth as each carded 149. Skip Brinson from the Eastern NC Tour ended the day in seventh, posting a total of 150. Central Carolina Tour Director Dave LeVeque and Craig Sturdivant of the Central Carolina Tour closed out their rounds tied for eighth at 151. Charlotte Tour Director Phil VanGeersdaelen rounded out the top ten with a total of 152.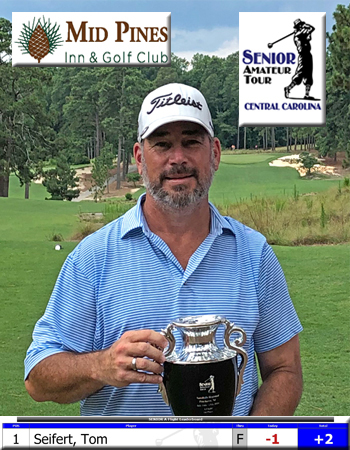 In the A flight, Tom Seifert of the Charlotte Tour took the first place spot by shooting a one under par 71 on day two for a total score of 146 and a five stroke win. Central Carolina Tour's Keith Thomas from Sanford took second place with a combined score of 151, while another Central Carolina regular posted 153 for a top 3 finish. Ron Hockensmith also from Central Carolina and Central Carolina Tour Director Chuck Smith finished tied for fifth as each came in at 154. The sixth place spot was filled by Marshall Miller from the Eastern NC Tour with a 155. Richard Johnson also from Eastern NC claimed seventh by shooting 156, while Mike Johnson of Central Carolina  was eighth, posting 159. Central Carolina members Ben Wheaton and Don Tabat ended their tournament tied for tenth with scores of 160.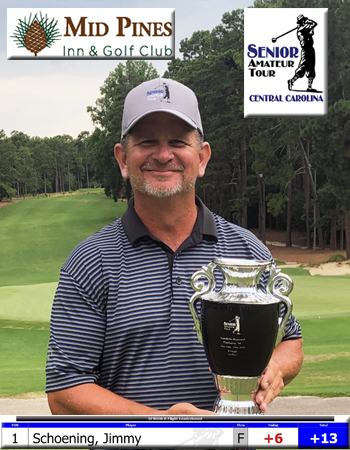 It was not easy for eventual winner Jimmy Schoening from the Jacksonville FL Tour in the B flight as he and Rob Geilhausen from Central Carolina ended day one with identical scores of 79. Day two was no different as the outcome was still in doubt as both men stood on the 18th tee. It was not until the last putt dropped on the 18th green that a winner emerged. Schoening's 157 was just good enough to nudge out Geilhausen and his total score of 158. Central Carolina's Hollis Peery turned a 160 into a third place finish while Nolan Elenz from the Charlotte Tour secured fourth with 161. In a tie for fifth, Central Carolina's Dick Kuehl and Stephen Melroy of the Southeast VA Tour turned in scores of 162. Larry Shepard from Eastern NC and Jerry Drewry of the Nashville Tour tied for seventh with 163. Tony Willard from Central Carolina shot 164 to take ninth place, as Nelson Sanchez from Eastern NC and Gus Alford also of Central Carolina closed out the top ten with 166 apiece.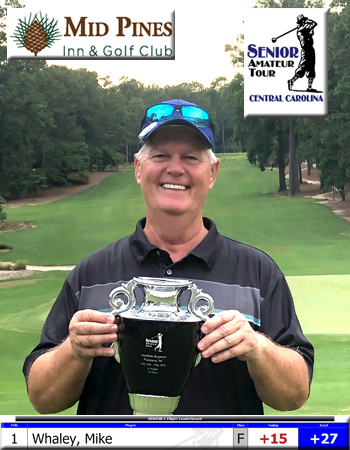 The C flight was a also battle from beginning to end. Identical scores of 84 were posted by Andy Lane and Mike Whaley both from the Eastern NC tour on day one. But after the 18 holes on day two, neither man could claim victory as they tied again posting 87 for totals of 171. The winner would need to be determined by a sudden death playoff, so Lane and Whaley returned to the 18th tee. After a par on 18, Whaley was finally able to raise the first place trophy in triumph. Another Eastern NC member Mike Reyer narrowly missed a three way playoff with his fellow tour members coming up a single stroke short at 172. Fourth place was captured by Kevin Lepage of the Charlotte Tour with his score of 175. Charlotte Tour's Joel Johnson closed out the top five carding 176, while Michael Allen from Eastern NC claimed sixth place with a score of 177. A five way tie for seventh place resulted as Billy Stanfield from Eastern NC, Central Carolina's Bobby Hutchison, James Dockery, Eddie Jaggers, and Myrtle Beach-Wilmington Tour's David Swimm all turned in two day totals of 178.
The Inaugural Senior Amateur Tour IceBreaker

Champ Flight: Overnight leader Brian Swenson who shot a 2 over par 74 on Day 1, unfortunately had to withdraw due to an illness. That opened the door for Steve French (CLT) to inherit the lead starting round 2. Steve entered day 2 with a 4-shot lead and never looked back. Steve's round of 74 over the final day was good enough for an 8-shot victory with a two day today of (75-74-149). Scott Patnode (CLT) came from way back with an impressive round of 75 to take 2nd place shooting (82-75-157). Steve Evans (CLT/HHI) takes 3rd with rounds of (80-80-160). Rounding out the top 4 was our Eastern NC Tour Director, Marty Martinez with rounds of (79-83-162)
In the A Flight, Eric Neidermeyer (Louisiana) was tied with Scott Ide (CLT) after matching 79's on day 1. Scott got off to a rough start and Eric capitalized to take home the victory. Eric's two-day total of (79-83-162) was good enough for a 3 shot victory. Jack Holland (CLT) finished second with (81-84-165), Ide (79-86-165) managed to take home third closing his second round with birdie, par, birdie, par to get back into 3rd place after dropping out of the money in the middle part of the round. Rounding out the top 4 was Charlotte Tour Director Phil VanGeersdaelen with rounds of (85-82-167).
In the B Flight, Boyd Laughlin (CLT/HHI) takes home a 1 shot victory shooting (81-85-165). Graham Tomlinson (Orlando) kept the pressure on Boyd the whole way and almost forced a playoff by shooting (86-80-166). Jerry Drewry (Nashville) takes home third with rounds of (83-86-169). Rounding out the top 4 was Louisiana our Director, Mark Toloso with rounds of (89-83-172).
In the C Flight, Thomas Grenell (Southeast VA), takes home a 3 shot victory after rounds of (88-95-183). Bernie McClellan (CLT/HHI finishes second with rounds of (89-97-186). Duane Wandel takes home third shooting (94-96-190) beating out Dallas Shackleford (Eastern, NC) (94-96-190) in the scorecard playoff by shooting a better back nine of 48 to Dallas' 52) Patrick Warren also shot a two-day total of (92-98-190) but lost on the first tiebreaker which was the final day score.
The 2019 Senior Amateur Tour Championship Final Results
Congratulations to the 2019 Golfweek Amateur Tour National Champions!
Left to Right: Mike Hymel, Louisiana- Championship Flight
Marty Martinez, Eastern North Carolina- A Flight
David Ohrn, Eastern North Carolina- B Flight
Paul Harris, Indiana-Western KY- C Flight
Mike Hymel wins the 2019 Senior Amateur Golf Tour Championship by firing a four under par final round of 68!
HILTON HEAD ISLAND, S.C. – Mike Hymel from the Louisiana tour wins his first ever Senior Amateur Tour Championship title by five shots over three other players.  Mike Hymel shot 75-68-143 followed by Chad Frank (Orlando) 76-72-148, Don Duet (Louisiana) 72-76-148 and Terry Lanning (Hilton Head) 70-78-148.  Rich Campbell (Columbus) and Rob Fulford (Charlotte) rounded out the top five spots at 149.
Over 325 players competed on four courses—two in Palmetto Dunes (Trent Jones and Arthur Hills), Dolphin Head CC & the Palmetto Halls Arthur Hills course—making this the largest Senior Tour Championship field ever.
In the A flight, Marty Martinez (Eastern NC) led by two strokes going into the second day's round at Dolphin Head CC.  After the first nine holes Ronnie Averett (Louisiana) had taken the lead by one shot.  Martinez tied Averett with a birdie on the tenth and regained the lead after fourteen.  On the seventeenth hole Martinez sealed the victory with birdie as he fired a one under par back nine for the victory.  Marty Martinez' winning scores were 72-75-147 followed by Jeff Carnacchi (Nashville) 76-76-152 and Ronnie Averett (Louisiana) 76-77-153.  Robert Yurasovich was fourth at 154 followed by Eric Neidermeyer (Louisiana) and Oz Helgeland (North Central Florida)
David Ohrn of Eastern North Carolina fired a two day total of 76-81-157 to win the B Flight Championship by just one shot. Ray Rodriguez (Orlando) finished in second at 158.  Houston Shaw (Central Carolina) Britt Theriot (Louisana) and Jim Flowers (Jacksonville) all tied at 161.
The C Flight Champion went to Paul Harris from the Indiana-Western KY tour with 85-85-170. Gary Burr (North Central Florida) and Chris Inglot (Chicago) tied second at 175.  Dave Schrott (North Central Florida) was fourth at 177 and Robert Luter (Arkansas) and Mark Sikes (Charlotte) tied fifth with 178.
The Louisiana Tour took the Team Cup over defending champions Charlotte, NC by one stroke with a two day total of 1289 stokes. The Charlotte, NC Tour was second with 1290 shots followed by the Orlando, FL Tour (1319), the Central Carolina Tour (1320) and the Columbus, OH Tour (1338).