The Senior Amateur Tour

The Senior Amateur Golf Tour is open to players of all skill levels. Members of the Tour must be of a minimum age of 50 on or before Oct 1, 2021. The Tour has four separate flights to keep competition fair. You may join anytime during the season for a membership fee which includes Tour merchandise and allows members to play in all local Tour events as well as any SAGT event nationally.
Nov. 17, 2020
New for 2021
Senior Amateur Regionals
Dec. 10, 2020
Be A Champion on the Senior Amateur Tour!
Flight leaders from each local tour will be invited to compete against the top tour members across the country at the 36-hole National Championship in Hilton Head, SC.
The 2021 Senior Amateur Tour Championship will be held October 20-21 with a flighted skins game on October 19.
Dec. 10, 2020

WhatsNew: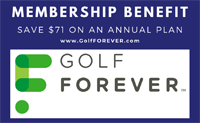 Sign up today for Golfweek's FREE newletters reporting on the latest and greatest happenings in the game of golf.
2021 Senior Amateur Tour National Championship!
The 2021 Senior Amateur Tour Championship will be held October 20-21 with a flighted skins game on October 19.





Sandhills Regional, Pinehurst, NC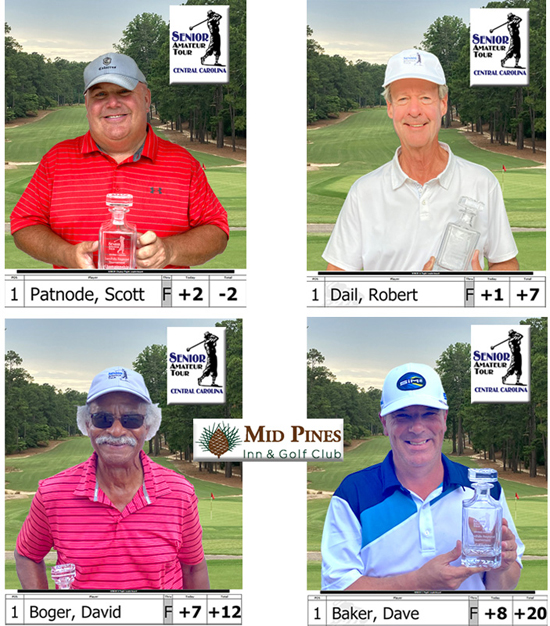 The Central Carolina Senior Amateur Golf Tour hosted a two-day Regional at the Mid Pines Resort in Southern Pines, NC on Monday July 12th and Tuesday July 13th. Over 150 players registered for the event and the competition was fierce.
In the Champ flight, Scott Patnode (Charlotte) used an opening day four-under-par 68 to help him claim the victory. His two-day total of 142 was good enough for a four-shot win. Runner up Steve Kubik (Eastern) also posted 68 on day one and followed with a score of 78 for a 146. Dale Fuller (Eastern NC) and Mike Gentry (Charlotte) finished T3 with two-day totals of 151, while Trey Coker (Louisiana) and Craig Sturdivant of Sanford tied at 152 to finish T5.
The A flight saw Bob Dail of Wendell shoot one-over-par 73 on day two, and added to his day one 78 for a single-shot win and the trophy. Eric Neidermeyer (Atlanta) posted 77 on day one, and carded 3 birdies plus an eagle day two to post 75 and a total of 152. Keith Thomas of Sanford finished in third place with scores of 78-75-153. Four players shot scores of 156 in a T4 finish: Bruce Gantt (Charlotte), Ron Brady, John East, and David Ganus (all from the Central Carolina). CT Ton of Greensboro carded 79-78-157 to claim 8th place.
The B flight was won with a total score of 154 by 83-year-old Dave Boger of Greensboro. Dave has been playing on the tour for a long time and has always been a very consistent player. Tim Fyfe (Chicago) finished a single stroke behind in second place scoring 155. Terry Dunn (Atlanta) placed third with a score of 160 as Jamie Branham of Kingston and Nolan Elenz (Charlotte) shot 161 to end the day T4. Nelson Sanchez (Eastern NC) shot 162 to take sixth place, Gene Jones from Thomasville posted 163 in seventh, and Tim Prevatte (Eastern NC) carded 164 to claim eighth place.
Central Carolina's Dave Baker of Greensboro took top honors in the C flight with scores of 84-80-164. In the runner up position, Tony Mooneyham of Sanford posted a two-day total of 172. Third place was a three way tie at 173 by Marty Carpenter of Southern Pines, Vic Lawrence (Charlotte), and Marty James (Charlotte). Sixth place was another tie as Greg Martin of Whitsett and Randy Garver (Charlotte) both posted two-day scores of 175. Carnell Luckett (Eastern NC), Jerry York (Charlotte), and Ken White of High Point finished T8 with matching scores of 176.
JACKSONVILLE MAJOR AT WORLD GOLF VILLAGE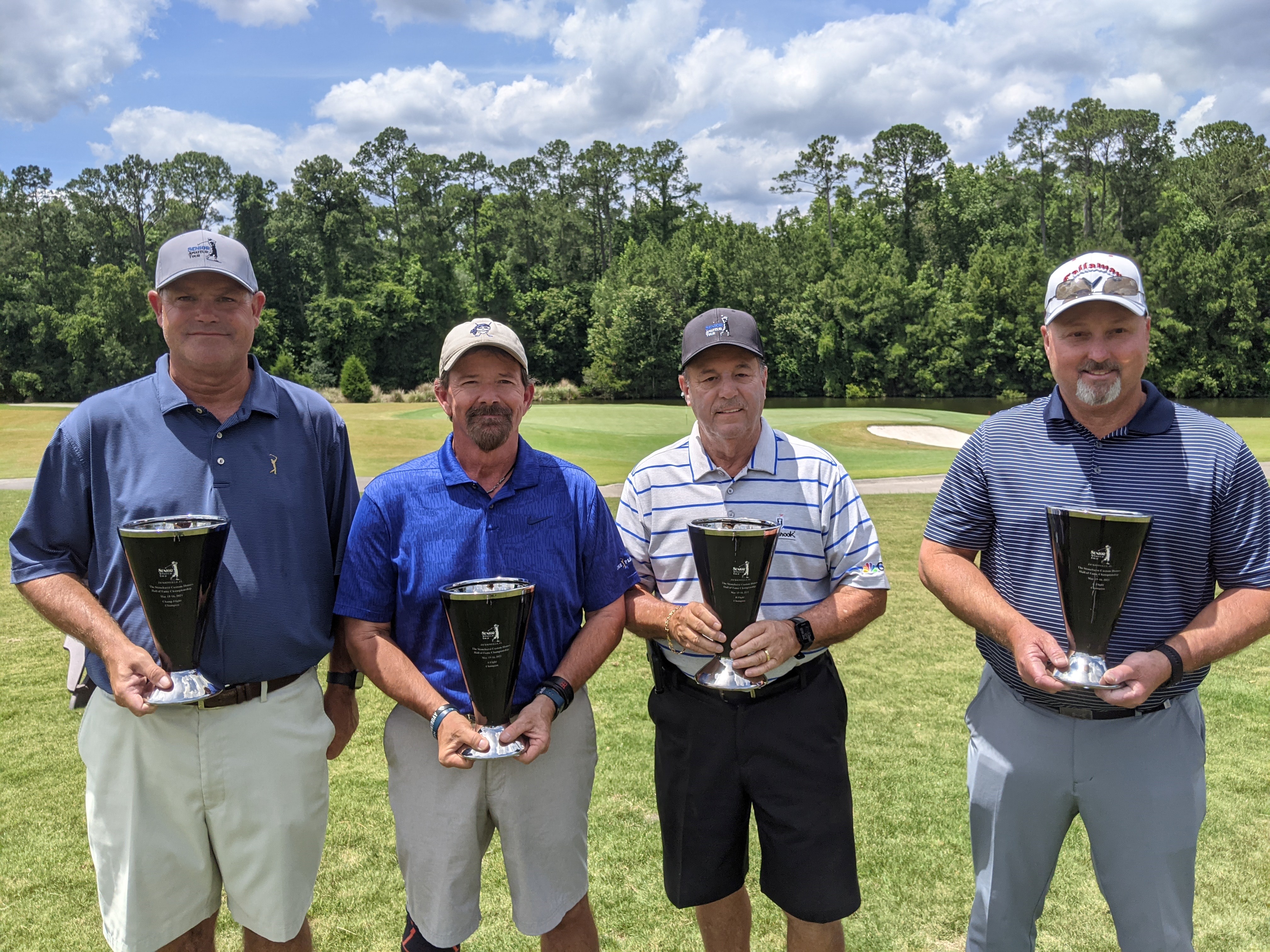 From left to right: Bryan Benton ( Champ), Jim Flowers (A Flight), Ray Rodriquez (B Flight), and Mickey White ( C Flight)
The Jacksonville Senior Amateur Tour held its second two day major of 2021 at the World Golf Village home of the World Golf Hall of Fame. 114 players, including visitors from as far away as NC and Louisiana, took to the Slammer and Squire on Day One followed by the King and the Bear on Day Two. Under beautiful skies and warm weather the players took to the course for a 8:30 shotgun start.
Champ Flight: Bryan Benton (Jax) came ready to play and jumped out to a six stroke lead that included four birdies for the round. His final score of 71 made the rest of Champ Flight come out firing on Day Two. Benton shot a second day round of 73 while feeling the heat of new member Rob Bringardner (70) and Mike Ellison (72) who both shot up the leaderboard getting off to fast starts. In the end Benton was able to hoist the trophy. Special note Jim Hammons had the only superskin on Day One for the largest payout in the Jacksonville Tour's short history.
A Flight: Jim Flowers (Jax) who got off to a rocky start was able to settle down and fire a 75 highlighted by 4 birdies. He wasn't going to rest easy as Berry Hauser (Orl) shot a solid round of 78. Four players were within earshot with rounds of 79. Day two saw Flowers cool off and fire a 77 for a two day total of 152. Tim Pike battled throughout the round firing a 74 to close the gap to one with a two day total of 153. Bill Rambo (Orl) and John Brendel took 3rd and 4th respectively with a two day total of 158.
B Flight: Well we couldn't have a two day major without a playoff. Ernie Wheaton (Jax) fired a great round of 79 for the round to take a two stroke lead over Gordy McHardy (LA) on day one with Mark Eichorn (Jax), Ray Rodriquez (Orl) and Glen Shipe (Jax) carding rounds of 82. Day Two saw some great rounds turned in as Ray Rodriquez (77), Jim Schoening (NCFL) (76), Mark Eichorn (79), and Donnie Thomas (NCFL) who shot the best round in B flight for day two with a 75. In the end, Ray Rodriquez (Orl) and Jimmy Schoening (NCFL) both had two day totals of 159. Back to the course for a playoff they went with Ray Rodriquez becoming the first back to back winner in our short history securing the victory on the 1st playoff hole. Mark Eichorn (161) and Gordon McHardy (164) placed 3rd and 4th respectfully.
C Flight: A tie at the top of day one as Mickey White (Jax) and Terry Lunsford (CNC) who both shot 83 in the opening round and taking a four stroke lead over Jeff Weaver (Orl), Ted Olkowski (Jax) and Jerry Lorenz (Jax) who stayed in the hunt with rounds of 87. Day Two saw Mickey White fire another great round (81) to capture his first tour victory since joining in 2020. D.J. Jackson (Char) who came roaring back to apply some heat took second with a two day total of 171 while Terry Lunsford recorded 172 for the event and take third. Jeff Weaver (Orl) took fourth also with a two day total of 173. George Ricardo (Jax) carded the best round on day two carding a great round of 80 highlighted by three birdies.
This two day major was by in large the largest turnout for a Jacksonville Senior Tour event in our short history. The staff at World Golf Village were gracious hosts and we have already planned for a return visit in 2022. Great play was complimented by the fun and laughter before and after each round. We thank all who attended.

FLORIDA SENIOR REGIONAL @ MISSION INN RESORT
CHAD FRANK TAKES TOP SPOT, MIKE LEGEZA WINS A-FLIGHT PLAYOFF, NOLAN ELENZ SCORES ACE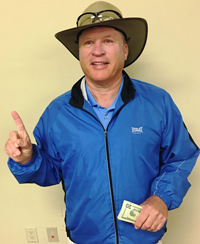 Nolan Elenz, Charlotte, Scores Ace in Saturday's first round at Mission Inn
Howey-In-The-Hills, FL   94 players from 14 Senior Amateur Tours across the country gathered at the beautiful Mission Inn Resort for the second Florida Senior Regional.  Chilly weather greeted the golfers all weekend.  But it did not diminish everyone's enjoyment of two of the top courses in Florida.
The first day was highlighted by Nolan Elenz's ace on Las Colinas' 15th hole.  He put a 9-iron in the cup on the 135 yard par 3.  And, it was his first shot of the day!  His group started on #15.  Amazing..
Congratulations to all the prize winners and a big thank you to all who came to play!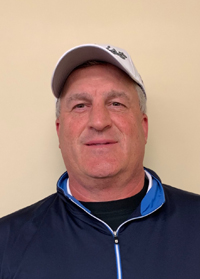 Chad Frank, Orlando
Championship Flight—Tour veteran Chad Frank opened with 72 on Saturday and followed it with 74 Sunday to cruise to a 9 stroke victory over Tony Boatic from Southeast VA tour, John Ward and Bill Shufelt (both of Orlando).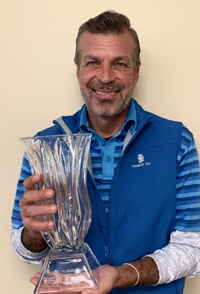 Mike Legeza, Jacksonville
A Flight—Mike Legeza (Jacksonville) and Barry Hauser (Orlando) tied with 36 hole scores of 161 to force a playoff in A Flight.  Mike took the title on the second extra hole. Jason Manning and Al Clerico, both Orlando players were two strokes back.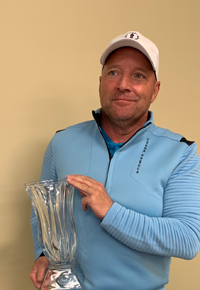 Terry Dunn, Atlanta
B Flight—Terry Dunn (Atlanta) led the way in B flight with 79-83-162.  Steve Johnson (Orlando) was second with 169.  Jerry Drewry (Nashville) took third on 170.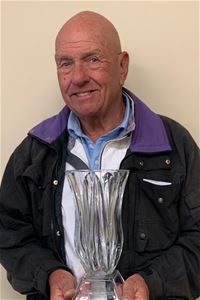 Gerard Brennan, Myrtle Beach
C flight—Gerard Brennan (Myrtle Beach) posted 84-86-170 to ease past Scott Brunt (Jacksonville) by four to take the cyrstal.  Tied for third, one more stroke back was Sue Hatcher (Jacksonville) and Jerry Fleming (Tampa).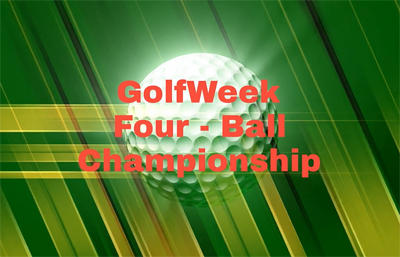 Click to view video of winners
Over 40 teams competed at Barefoot Resort in this year's Golfweek Four-Ball Championships!
Myrtle Beach, SC - This year's 36-hole tournament was held on the Love Course and the Dye Club.  We had teams from all over the country compete in the Golfweek Division and the Senior Division.
In the Golfweek Champ Flight, Jeff Wong & Jamie Manning started the day one shot back after firing a six-under-par round on Saturday at the Love Course.  On Sunday at the Dye Club, Wong & Manning shot 70 for a two-day total of 136, which was good enough for a one-shot victory.  Jim Aughtry & Joe Jaspers, day one leaders, posted rounds of 65-72-137 which put them alone in second place.  Jeff Maier & John Fryman placed third with 69-72-141 and Joe Bryant & Chris Legare finished fourth at 73-76-149.
In the Golfweek "A" Flight, Jim Simmons & Rob Jordan won with rounds of 71-77-148.  Andy Ricci & Travis Wireman finished second 76-76-152 followed by Lyle Joyner & Sean Redman and Brad Sasser & Jon Langer both at 154 totals.
In the Golfweek "B" Flight, Hunter Potalivo & Dustin Potalivo grabbed the victory with rounds of 76-82-156. Cliff Morgan & Nolan Elenz were second with 81-79-160, followed by Brian Day & Cory Patalivo with 76-86-162.
In the Senior "Champ" Flight, Larry Griffin Jr. & Mark Hodges won by two shots with 71-66-137.  Dave Boaz & Jerry Sennett finished second with 70-69-139 followed by Mike Gentry & Dennis McCormac with 71-72-143.
In the Senior "A" Flight, Johnny Taylor & Todd Vick won by just one shot with rounds of 72-70-142.  Tom Seifert & Bill Murphy were second with 71-72-143 followed by David Baca & Tim Robinson with 69-76-145.
In the Senior "B" Flight, Bryant Turner & Ray Clark won by two shots with 72-83-155.  David Ohrn & Todd Vance finished in second with 78-79-157 followed by Dana Valcourt & Sam Carpenter with 83-80-163.

2021 Senior IceBreaker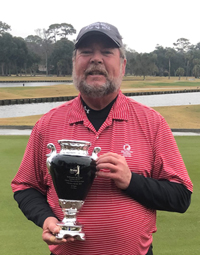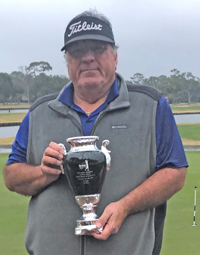 Trey Coker, Mark Davidson, Jerry Drewry and Shayne Smoke all win at the Senior IceBreaker Regional hosted at Sea Pines Resort!
Hilton Head Island, SC – This year's Senior IceBreaker Regional was played in Sea Pines Resort (Atlantic Dunes & Heron Point). In the second year of this regional tournament this was the largest field ever with 86 players from over 13 different tour cities across the country.

In the Championship Flight, Trey Coker (Louisiana) Terry Lanning (Hilton Head/Savannah) and Steve Kubik (Eastern NC) all finished tied for first at 146. One the first sudden-death playoff hole Kubik existed with a bogey while Coker and Lanning made pars.  Finally on the sixth sudden-death playoff hole Coker was victorious with a birdie.  All the previous five holes were tied with pars as Lanning finished in second and Kubik third.  Bryan Benton (Jacksonville) was fourth at 148 and Steve French (Charlotte)and Jeff Brischke (Charlotte) both tied fifth at 152.

In the A Flight, Mark Davidson of the Atlanta tour won by five shots with rounds of 75-80-155. Ray Van Ness (New Jersey) finished solo second at 160 followed by John Dobbins (Jacksonville) with 161. Randy Myers (Myrtle Beach/Wilmington) finished fourth at 163 and Bob Dail (Central Carolina), Greg Buliga Hilton Head/Savannah), and Michael Mason (Jacksonville) all finished tied in fifth place with two day totals of 164.

In the B Flight, Jerry Drewry (Indiana-Western KY) won by two shots for the victory at 82-81-163. Mark Toloso (Louisiana) finished second at 165 followed by Mark Odekirk (Jacksonville) third at 167. John  Turner (Hilton Head/Savannah) and Jeff Patterson (Central Carolina) both tied fourth at 168.

In the C Flight, we had a four man sudden-death playoff.  Shane Smoke (Louisiana) Patrick Fowler (Charlotte), Doland Miller (Southeast VA) and Jerry Brennan (Myrtle Beach/Wilmington) all tied at 176.  After two holes Shane Smoke came out victorious with a par on the second sudden-death hole.  Jimmy Sullivan (Charlotte) rounded out the top five place only one shot back at 177.

The Senior Amateur Tour plays in over 16 areas across the country and host single and two day tournaments. To get your tour card simply go to (www.senioramateurgolftour.net) to join the Tour and be a part of a great nationwide tour. The tour is open to any player who is 50 years of age or older.

Congratulations to the 2020 Senior Amateur Tour Championships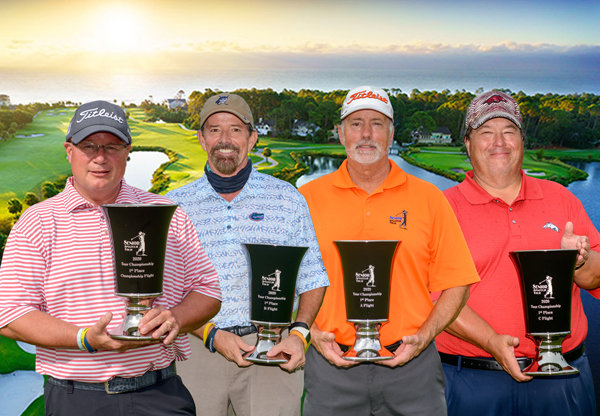 Left to Right: Michael Dennis, Michigan- Championship Flight
Jim Flowers, Jacksonville, FL- B Flight
Bill Phillips, Charlotte, NC- A Flight
Robert Luter, Arkansas- C Flight






HILTON HEAD ISLAND, S.C. – Michael Dennis from the Michigan tour won his first ever Senior Amateur Tour Championship title by four shots over Nashville's Derek Riley. Michael Dennis shot rounds of 69-71-140 for a four-under-par, two-day total which included a hole out in two shots on the par four 10th hole at Oyster Reef.  Derek Riley (Nashville, TN) posted rounds of 71-73-144 to place second and Rich Campbell (Columbus, OH) was third with 72-73-145. Chad Frank (Orlando, FL) 74-72-146 and Ed McDugle (Nashville, TN) 73-73-146 rounded out the top five spots at 146.
Over 380 players competed on five courses—two in Palmetto Dunes (Trent Jones and Arthur Hills), Dolphin Head CC, Oyster Reef & the Palmetto Hall's Robert Cupp course—making this the largest Senior Tour Championship field ever.
In the A flight, Bill Phillips (Charlotte, NC) won by one stroke over three other players. Phillips' winning scores were 74-78-152 followed by Jeff Carnacchi (Nashville, TN) 78-75-153, Keith Thomas (Central Carolina) 77-76-153 and Richard Johnson (Eastern, NC) 74-79-153. Rounding out the top five spots was Joe Natola (Chicago) with 74-80-154.
Jim Flowers of Jacksonville, FL fired a two-day total of 79-78-157 to win the B Flight Championship by four shots.  Dave Schrott (Jacksonville, FL) finished in second at 161 followed by Glenn Whalen (Chicago) solo third at 162.  Edward Greenfield (Arkansas) finished fourth at 163 and Hollis Peery (Central Carolina) beat out two other players in the tie breaker for fifth place.
The C Flight Champion came down to the final hole to determine the winner.  By only one shot the victory went to Robert Luter from the Arkansas tour with a two-day total of 165. Eddie Jaggers (Central Carolina) was second at 166 and third place went to Steve Taylor (Jacksonville, FL) with a two-day total of 170.  Ron Vail (Phoenix, AZ) was fourth at 175 and Mark Detillier (Louisiana) wound up in fifth with (176).
The Central Carolina tour took home the Team Cup winning by five shots with a two-day total of 1275.  Charlotte NC finished solo second at 1280 shots followed by the Jacksonville, FL (1283), with Louisiana and Eastern, NC tied at (1330).